DAVI
DAVI is a twenty-something Helsinki-based artist who makes melodic trap music. He first became known after featuring on Cledos's breakthrough debut single "Töis" in 2017. The artist has released a few singles and the BoiVIILEIN EP, and his first song released under the name DAVI, "Exit", became a social media phenomenon in 2021. DAVI, who was signed by the Babyface record label in spring 2022, will perform at Y-festivaali.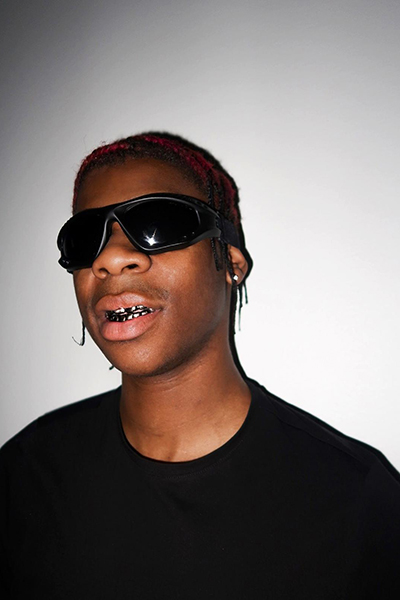 Helmi Hagelin
Helmi Hagelin is a Sámi artist and clothing designer who participates in social discussion by visual means. In their work they want to question and make visible dominant structures and their effects. At the moment, Hagelin is particularly interested in intersectionality and how minorities are seen in society. These are the topics they examine from the point of view of a queer Sámi.
Helmi Hagelin will participate at Y-festivaali with the installation "Vain silloin minä olen", which contemplates belonging to several minorities.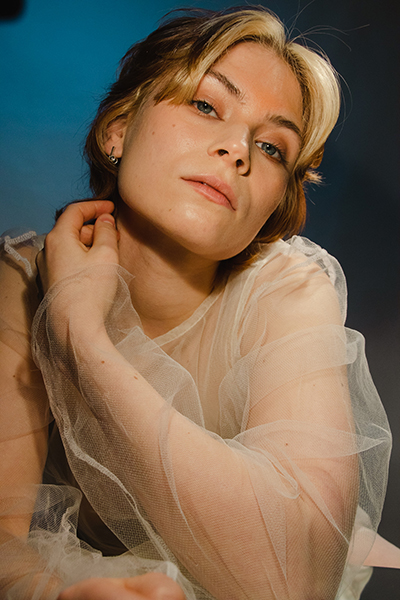 Impropias Collective
The Impropias Collective examines Latin American identities. The feminine "impropia" in the name of the collective refers to something inappropriate, inadequate or untimely. The name is also a mixture of the words "improvisation" and "propio", which means "cool" and "street-smart" in Ecuadorian slang.
The collective was founded by Mercedes Balarezo Fernández, Yes Escobar, Paola Nieto Paredes and Daniela Pascual Esparza in 2021. The Impropias Collective brings to Y-festivaali the work "cuerpalatina", a nomadic dance installation that takes audiences on a journey from separateness and strangeness into a celebration of togetherness.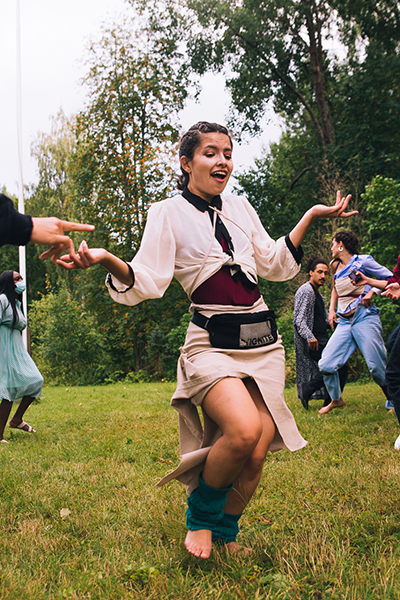 Mira Eskelinen
Mira Eskelinen is a Helsinki-based author, producer, curator and performer, also known as Miss Vinyl Envy. Eskelinen's artistic work focuses on the dismantling and expansion of trans and queer narratives and the carnivalisation of society's strict and absurd assumptions about gender. As a producer and curator, Eskelinen creates spaces for queer artists to bring forward their stories independently. She is one of the founders of the award-winning Punch Up! – Resistance & Glitter show, which has also been featured on the main stage of the Finnish National Theatre.
At Y-festivaali, Eskelinen moderates the discussion "How being trans can improve the quality of life".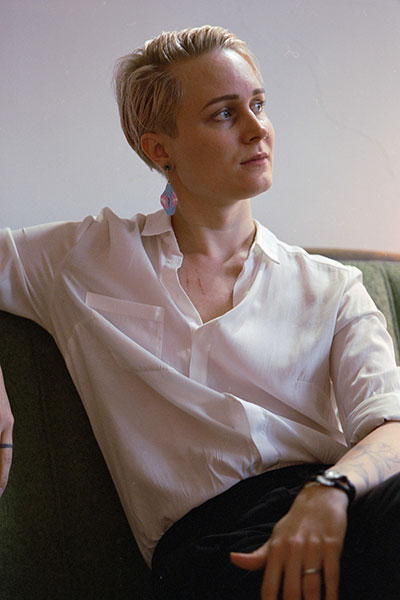 Photo: Shia Conlon

Tanssiva satuhetki
"Tanssiva satuhetki" is an LGBTQ+ dance performance that celebrates the diversity of people and families. The dancers read and the audience can dance if they wish to. The stories include unicorns, rainbows, space station commanders and other delights. Although there is no plot and even the dancing is upside down, the journey is certainly gentle and fun!
"Tanssiva satuhetki" is performed by Pauliina Aladin, Tanja Illukka and Anni Puuperä. The working group introduces into children's and young people's culture imagery where diverse individuals and families become visible and gain space.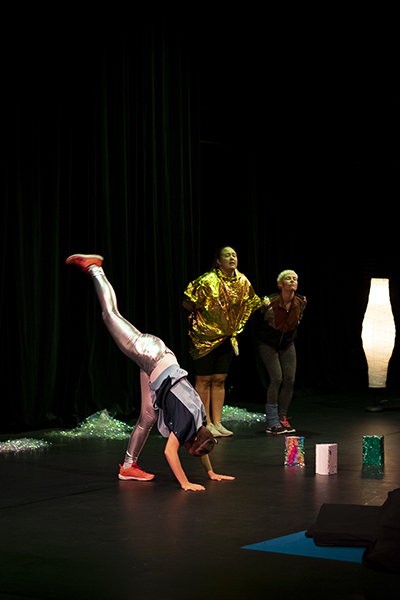 Photo: Anni Kääriä

Yeboyah
Yeboyah, a Helsinki-based artist and social influencer, will bring the tour of her debut album Perhosefekti to Y-festivaali.
Yeboyah's 2019 Elovena EP, which got an Emma nomination, and its visual concept made her one of the most talked about new artists. Her stage performance has been enjoyed both on solo gigs and as part of the D.R.E.A.M.G.I.R.L.S. rap show.
Yeboyah, who has been building her career as an independent artist for several years, now records for Sony Music Finland. The Perhosefekti LP, released in autumn 2021, introduces a versatile artist with a strong voice.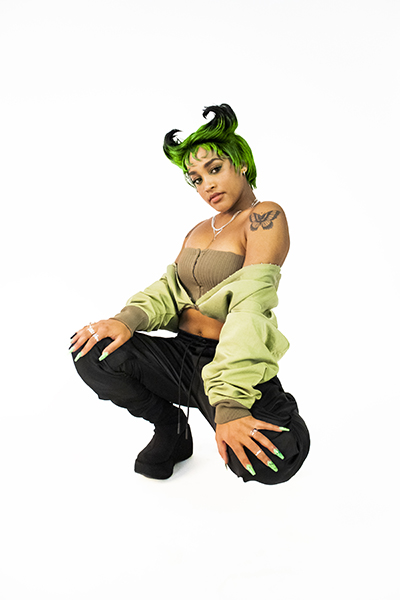 Fanni Ijäs
Fanni Ijäs is a Finnish dancer, choreographer and dance teacher living in Stockholm who draws inspiration from house dance and club culture. Ijäs brings to Y-festivaali her recent work "Nights don't have names" (2022), which examines the unpretentious and unstructured night-time and the emerging possibility to bodily transform from a task-driven day body to an empathetic night body.
"Nights don't have names" is performed in a stripped-down room that becomes a cross between a stage and a dance floor that the audience shares with the dancer and the music.
The work, which will have its Finnish premiere at Y-festivaali, raises questions about the relationship between the audience and the performer and about the possibilities of social dance tradition to expand the field of performing art.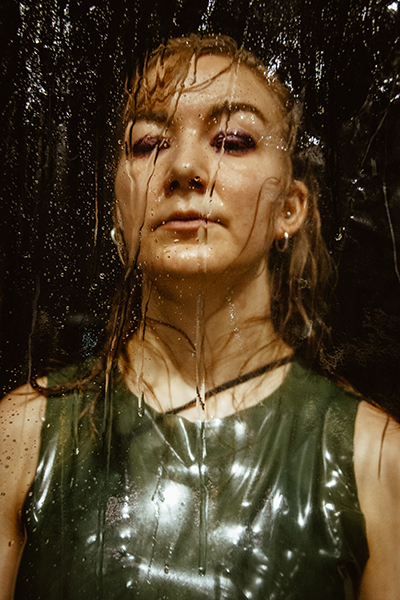 HAARALA, HENNA
Henna Haarala is a 24-year-old visual storyteller whose creative work combines playfulness and edge. Haarala describes their visuality as a passionate collage of colour, shape, image and sound. Haarala focuses her creativity on what feels right at the time. Recently, they have found a passion for writing.
At Y-festivaali, Haarala's works will be heard for the first time in the form of spoken word. "20 DENIERS" is a collection of ideas about authenticity, sexuality and who we live for.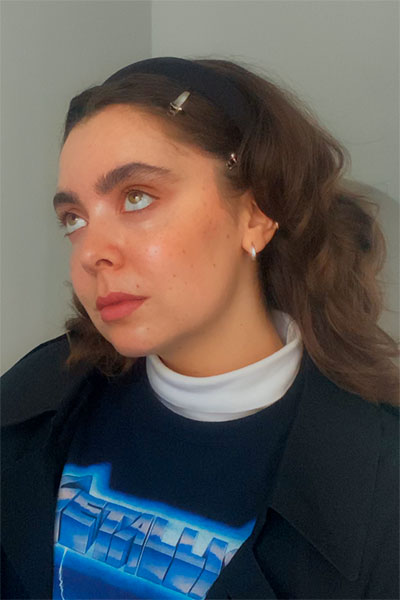 Inari Sandell
Inari Sandell is a Helsinki-based visual artist who works with image, space and material in a multidisciplinary manner. Their work deals with themes of coping, rest and sensory experience as well as post-digital and posthuman existence. In their work, Sandell combines delicate textiles with everyday objects and sharp and heavy materials, such as glass and metal. Inspired by their own neurodivergence, Sandell seeks to challenge normative frameworks for bodily and cognitive abilities and make room for alternative conceptions.
At Y-festivaali, Sandell will present the installation "Gravity Blanket" (2021), which takes the form of a weighted blanket, combining a light, fragile fabric with broken glass in a discourse on neurodivergent life, rest and coping.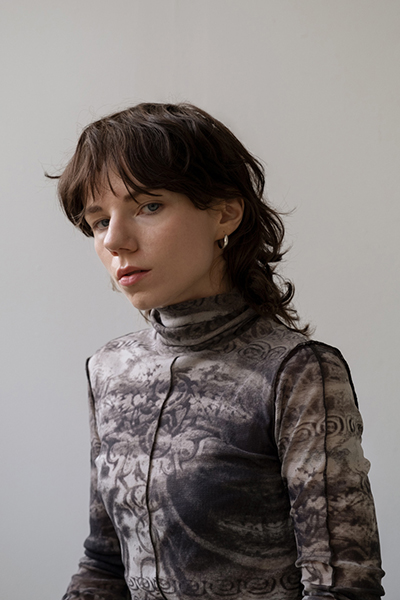 K=IJU
K=IJU is a 20-year-old artist performing artist, producer and DJ. Having produced music since age 6, K=IJU made her first recordings at the age of eight using a 1990s multitrack recorder.
The most important aspects of K=IJU's music are the atmosphere and lyrics. All instrumentals in K=IJU's music have been played live with real instruments. K=IJU produces, mixes and masters most of their solo music herself but also works closely with many artists and producers.
At Y-festivaali, K=IJU will perform their new single "Concept Song".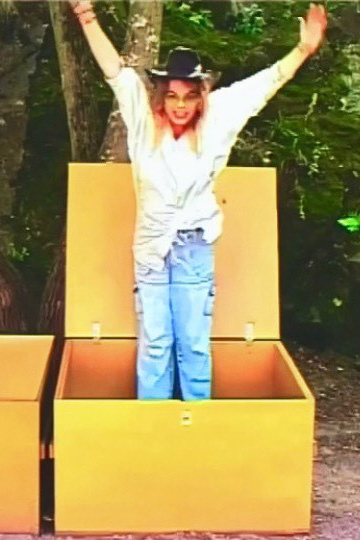 Tourer Sportsvagina
Tourer Sportsvagina is a drag artist who performs rarely and selectively. When they are on stage, they let the audience have as easy time of it as persons with disabilities have in society.
The performance at Y-festivaali is a statement on accessibility and its manifestations.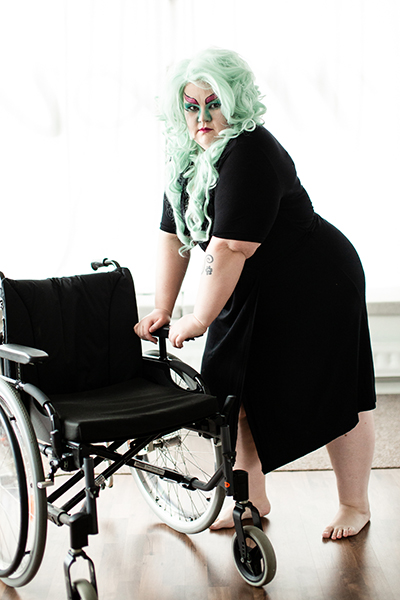 Photo: Sonja Siikanen

Skábma Idja
Máret Ásllat Ivvár Ovllá Nilla Ritni, Ritni Rávdnji Ráste Pieski, who uses the stage name Skábma Idja, is a Teno Sámi performing artist and activist. Issues close to their heart include decolonisation, queering and intersectional feminism. In art, they are particularly interested in communality, multidisciplinarity, collective projects, undermining norms and playfulness.
They will perform at Y-festivaali their solo work "Rievssat – Snow Grouse", which was created around questions of decolonisation, queering and their own identity and community.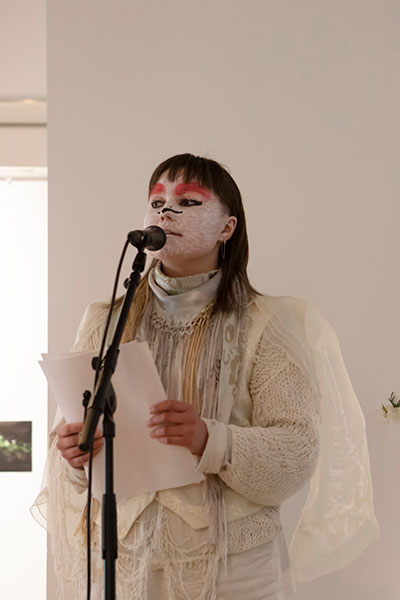 Photo: Finnish National Gallery/Pirje Mykkänen